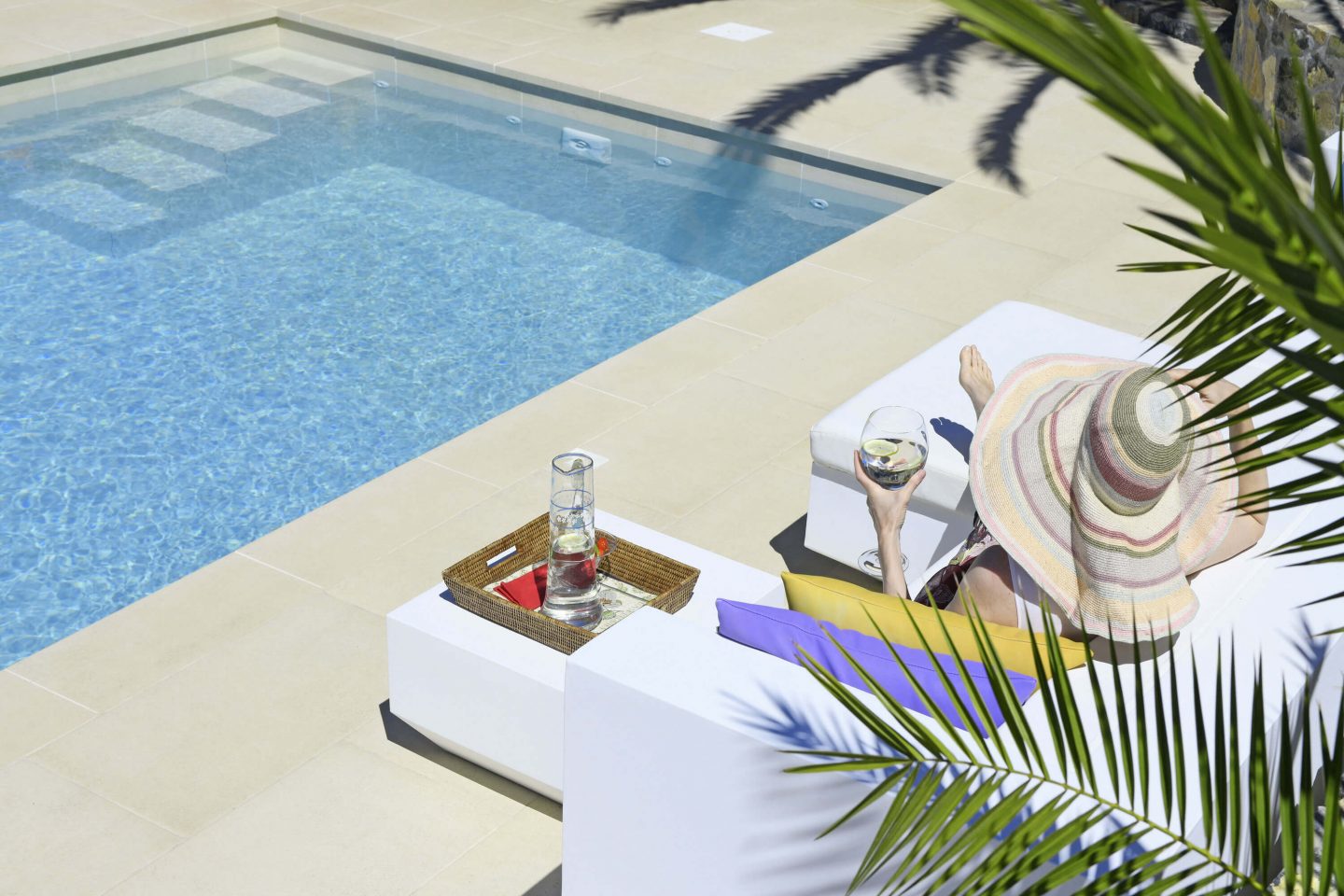 This Spring season is definitely an unusual one, but we will take you on a visual excursion through the islands so that you can enjoy the warm sunshine, the colourful Spring blooms and the relaxing beach waves from your sofa. We have added some book and movie recommedations that will take the beach and exotic locations directly to your living room, because you can also travel with your imagination!
Dieser Frühling ist definitiv ein ungewöhnlicher, aber wir nehmen Sie mit auf eine visuelle Exkursion auf die Inseln, damit Sie den warmen Sonnenschein, die farbenfrohen Frühlingsblüten und die entspannenden Wellen von Ihrem Sofa aus genießen können. Wir haben auch einige Buch- und Filmempfehlungen hinzugefügt, damit Sie den Strand und die exotischen Orte direkt in Ihrem Wohnzimmer genießen können, denn man kann ja auch mit seiner Phantasie reisen!
Esta temporada de primavera es definitivamente inusual, pero te llevaremos a una excursión visual por las islas para que puedas disfrutar del cálido sol, las flores primaverales y las relajantes olas de la playa desde tu sofá. Hemos añadido algunas recomendaciones de libros y películas que te llevarán a la playa y a los lugares exóticos directamente desde tu salón, ¡porque también puedes viajar con tu imaginación!
1. Tenerife, a place of springspiration
Tenerife has it all: stunning golden sand beaches in the south and beautiful lush green landscapes in the north. And do not forget about the its national park with its landmark El Teide which is specially beautiful during Spring: watch out for the "violeta del Teide" and the blooming "tajinaste rojo"! Agatha Christie, the famous novelist, was a keen fan of Tenerife and its mild temeperatures and she even wrote a short story taking place on the island, The Man from the Sea. The island has been an inspiration to many filmmakers as well: some of the daramtic landscapes you see in "Fast & Furious 6" were shot on the island. If you want to watch an old classic, try the 60s movie "One Million Years B.C." – the majority of its scenes were filmed in the Teide National Park in Tenerife and Timanfaya and Lago Verde in Lanzarote.
Teneriffa hat alles was man braucht: atemberaubende goldene Sandstrände im Süden und wunderschöne, grüne üppige Landschaften im Norden. Und vergessen Sie nicht den Nationalpark mit seinem Wahrzeichen El Teide, der im Frühling besonders schön ist: Achten Sie auf die "violeta del Teide" und den blühenden "tajinaste rojo"! Agatha Christie, die berühmte Krimiautorin, war ein großer Fan Teneriffas und seinen milden Temperaturen, und sie schrieb sogar eine Kurzgeschichte, die auf der Insel spielt, Der Mann aus dem Meer. Die Insel war auch für viele Filmemacher eine Inspiration: einige der dramatischen Landschaften, die Sie in "Fast & Furious 6" sehen, wurden auf der Insel gedreht. Wenn Sie sich einen alten Klassiker ansehen möchten, versuchen Sie den 60er Jahre-Film "Eine Million Jahre vor Christus". Die meisten seiner Szenen wurden im Teide-Nationalpark auf Teneriffa sowie in Timanfaya und Lago Verde auf Lanzarote gedreht.
Tenerife lo tiene todo: impresionantes playas de arena dorada en el sur y hermosos paisajes verdes en el norte. Y no te olvides del parque nacional con su atracción El Teide, que es especialmente hermoso durante la primavera: ¡disfruta de la "violeta del Teide" y del floreciente "tajinaste rojo"! Agatha Christie, la famosa novelista, era una gran fan de Tenerife y sus temperaturas cálidas e incluso escribió una novela corta que se desarrolla en la isla, El hombre del mar. La isla también ha sido una inspiración para muchos cineastas: algunos de los paisajes darámicos que se ven en "Fast & Furious 6" fueron filmados en la isla. Si quieres ver un clásico, prueba la película de los años sesenta "Un millón de años antes de Cristo". La mayoría de sus escenas se filmaron en el Parque Nacional del Teide en Tenerife y en Timanfaya y Lago Verde en Lanzarote.
2. La Palma, the Canarian goddess of Spring
If there was a competition between the island on which one of them can do spring better, La Palma would almost certainly win every time. That comes as no surprise as the Isla Bonita is generally praised for its natural beauty. The island is lush green durning the rest of the year, but during the days of Spring it really dresses up: delicate pink almond blossoms, fields of dashing yellow blooms and spectacular red poppies are just some of the delights that will catch your eye during the most beautiful of all seasons. If you want to experience some of La Palma's magic, you should definitely watch the time-lapse documentary "Island in the Sky" and if you want a bit of romatic comedy, the German movie "La Palma" is coming out soon.
Wenn es einen Wettbewerb zwischen den Inseln gäbe, auf welcher von ihnen der Frühling besser ist, würde La Palma mit ziemlicher Sicherheit jedes Mal gewinnen. Das ist keine Überraschung, denn die "Isla Bonita" wird allgemein für ihre schönen Landschaften gelobt. Die Insel ist den Rest des Jahres über üppig grün, aber während des Frühlings ist sie wirklich wunderschön: zartrosa Mandelblüten, Felder mit gelben Blüten und spektakulärer roter Mohn sind nur einige der Freuden, die Ihnen während der schönsten Jahreszeit ins Auge fallen werden. Wenn Sie etwas von der Magie La Palmas erleben möchten, sollten Sie sich unbedingt den Zeitraffer-Dokumentarfilm "Island in the Sky" anschauen, und wenn Sie ein bisschen romantische Komödie wollen, ist auf den deutschen Film "La Palma" hinzuweisen, der bald in die Kinos kommt.
Si hubiera una competición entre las islas sobre la cuestión cuál es la más bonita durante la primavera es casi seguro que La Palma ganaría siempre. Eso no es una sorpresa ya que la Isla Bonita es conocida por su belleza natural. Durante el resto del año, la isla es de un verde exuberante, pero durante los días de primavera se viste de todos los colores: delicadas flores de almendro rosado, campos de flores amarillas y espectaculares amapolas rojas son sólo algunas de las delicias que llamarán la atención durante la estación más bonita. Si quieres experimentar algo de la magia de La Palma, the recomedamos ver el documental "Island in the Sky" y si quieres un poco de comedia romántica, la película alemana "La Palma" saldrá pronto.
3. Gran Canaria, the charming miniature continent
Gran Canaria is busy capital city, small sleepy village, gothic cathedral, gorgeous golden sand dunes and beaches, stunning national parks, and soooo much more. And of course, Gran Canaria has many sweets spots where you can go to indulge colourful Spring vibes, whether you go for a hike in the mountains or stay at the beach to watch the colourful sunsets, you will always take the right decision! One of the most recent movies shot on the Canary Islands is Wild Oats, starring Shirley MacLaine and Jessica Lange, as well as many beautiful locations on Gran Canaria, including the "calles" of its capital city, Las Palmas – the perfect movie for an evening of vacations of Gran Canaria!
Gran Canaria ist eine geschäftige Hauptstadt, ein kleines verschlafenes Dorf, eine gotische Kathedrale, herrliche goldene Sanddünen und Strände, atemberaubende Nationalparks und soooo viel mehr. Und natürlich gibt es auf Gran Canaria viele schöne Orte, an denen Sie sich in farbenfrohe Frühlingsstimmung versetzen lassen können. Ob Sie nun in den Bergen wandern oder am Strand bleiben, um die farbenfrohen Sonnenuntergänge zu beobachten, Sie werden immer die richtige Entscheidung treffen! Einer der neuesten Filme, der auf den Kanarischen Inseln gedreht wurde, ist Wild Oats mit Shirley MacLaine und Jessica Lange in den Hauptrollen. Doch der wahre Hauptdarsteller des Filmes ist Gran Canaria – perfect für einen Abend Urlaubsstimmung auf der Couch!
Gran Canaria es capital llena de actividad, pequeño pueblo soñoliento, catedral gótica, magníficas playas y dunas de arena dorada, impresionantes parques nacionales y mucho más. Y, por supuesto, Gran Canaria tiene muchos lugares bonitos donde puedes ir a disfrutar de los colores de la primavera, tanto si vas de excursión a las montañas como si te quedas en la playa para ver las magníficas puestas de sol, ¡siempre vas a tomar la decisión correcta! Una de las películas más recientes rodadas en las Islas Canarias es Wild Oats, protagonizada por Shirley MacLaine y Jessica Lange – la película perfecta para unease vacaciones en el sofá!
4. Lanzarote & Fuerteventura, the exotic volcanic islands
Lanzarote and Fuerteventura are the islands that you would expect to be the least colourful during Spring as they are the arid volcanic islands with the stunning golden sand beaches that are located the closest to the African coast and the Sahara. However, inbetween the palm trees and the beautiful white houses you will be surprised to find surprisingly colourful spots, like the bouganvilleas pictured above. Lanzarote has been a place of inspiration not only for César Manrique, the most famous Canarian artist, but also from stars from today's fashion world, such as the luxury brand Jacquemus which recently shot their commercial "La Bomba" on the island. Watch it for a sun-soaked cocktail hour!
Lanzarote und Fuerteventura sind die Inseln, von denen man erwarten würde, dass sie im Frühjahr am wenigsten farbenfroh sind, da sie die trockenen Vulkaninseln mit den atemberaubenden goldenen Sandstränden sind, die in der Nähe der afrikanischen Küste und der Sahara liegen. Sie werden jedoch überrascht sein, zwischen den Palmen und den schönen weißen Häusern auch farbenfrohe Flecken zu finden, wie die oben abgebildeten Bouganvilleen. Lanzarote war nicht nur für César Manrique, den berühmtesten kanarischen Künstler, ein Ort der Inspiration, sondern auch für Stars der heutigen Modewelt, wie zum Beispiel die Luxusmarke Jacquemus, die kürzlich auf der Insel ihren Werbespot "La Bomba" gedreht hat. Sehen Sie es sich für eine sonnengetränkte Cocktailstunde an!
Lanzarote y Fuerteventura son las islas que se esperaría que fueran menos coloridas durante la primavera, ya que son las islas volcánicas áridas con las impresionantes playas de arena dorada que se encuentran más cerca de la costa africana y del Sahara. Sin embargo, the sorprenderás al encontrar entre las palmeras y las hermosas casas blancas pequeños oasis coloridos, como las buganvillas de la foto de arriba. Lanzarote ha sido un lugar de inspiración no sólo para César Manrique, el artista canario más famoso, sino también para estrellas del mundo de la moda actual, como la marca de lujo Jacquemus que recientemente ha rodado su anuncio "La Bomba" en la isla. ¡Míralo con un cóctel y pensando en el sol canario!
5. Vacations on our Pinterest board "Favourite Travel Guides"

If you can't wait to see more of the Canary Islands, we've got you covered, check out our new Pinterest board "Favourite Travel Guides" where you will find more photos and guides!
Wenn Sie es nicht erwarten können, mehr von den Kanarischen Inseln zu sehen, dann gucken Sie sich unseren neuen Pinterest board "Favourite Travel Guides" an, wo Sie weitere Fotos und Online-Reiseführer linden werden!
Si no puedes esperar ver más de las Islas Canarias, échale un vistazo a nuestro nuevo Pinterest board "Favourite Travel Guides" donde podrás encontrar más fotos y guías.