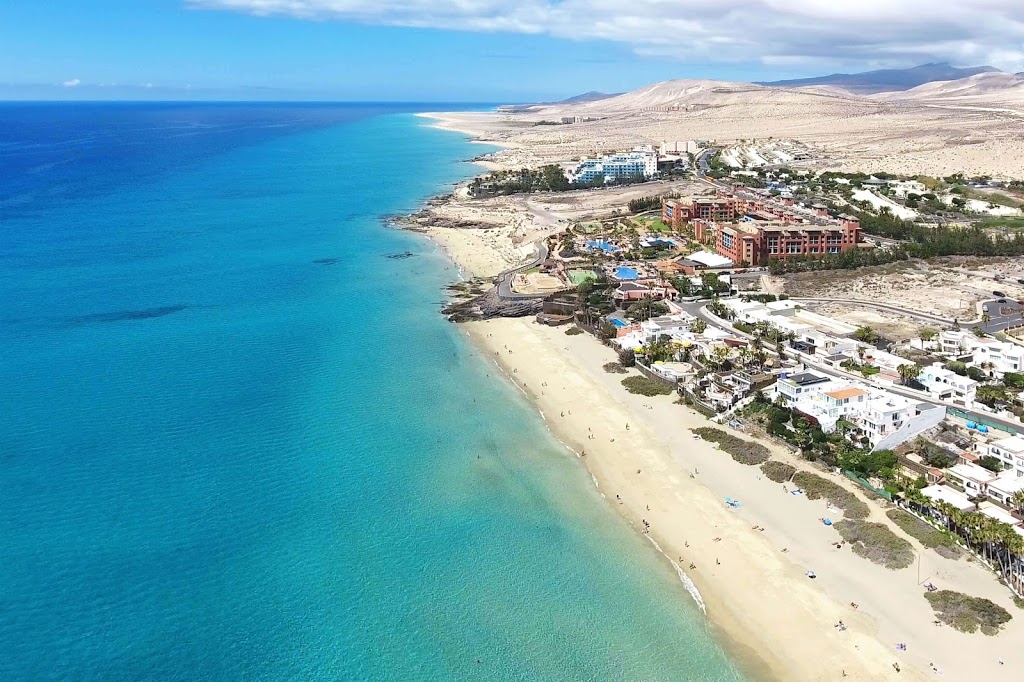 Located in the south of Fuerteventura, just right at the beginning of the stunning golden sand beaches of the península de Jandía, you will find the lovely town of Costa Calma. It is very popular among visitors from all over the world and of course they are right about it. Celebrating that we have 3 new apartments in first line to the beach of Costa Calma, we lined up all the reasons to spend your next holidays on this sun-kissed spot of the earth!
En el sur de Fuerteventura en el punto de inicio de las playas de arena dorada de la penísula de Jandía se encuentra Costa Calma. Es muy popular entre visitantes de todo el mundo y, por supuesto, hay buenas razones que justifican su gran popularidad. Celebrando que tenemos 3 nuevos apartamento en primera línea junto a la playa de Costa Calma, hemos hecho un resumen de todas las razones por las que debes pasar tus próximas vacaciones en este soleado trozito del planeta.
Im Süden von Fuerteventura, wo die wunderschönen weißen Sandstrände von Jandía beginnen, da befindet sich der Ort Costa Calma. Er ist bei Besuchern aus der ganzen Welt sehr beliebt und dafür gibt es gute Gründe. Um gebührend zu feiern, dass unsere 3 neuen Apartments in erster Linie am Strand von Costa Calma liegen, haben wir alle Gründe aufgelistet, warum Sie ihren nächsten Urlaub auf diesem sonnenverwöhnten Stückchen des Planeten verbringen sollten.

STUNNING BEACHES AND A GREEN OASIS FULL OF PALM TREES
The beach of Costa Colma is a heavenly place! Two kilometres of fine golden sand, calm turquoise waters and beautiful views of the surrounding hills are the reason why this beach is so popular. If you want to have a beach spot just for you, you can drive out of the town and continue to the south of Fuerteventura, where you will find many more stunning beaches just for you. If you are a water sports enthusiast, you can continue straight to Morro Jable at the end of the peninsula, the perfect spot for windsurfers. If you want to take a quick break from sunbathing, you can take a refreshing walk in the beautiful park of Costa Calma – full of palm trees. No water is wasted for mantaining this green oasis in the midst of the arid landscape of the south of Fuerteventura. The used water is purified water from the sewage treatment plants of Costa Calma.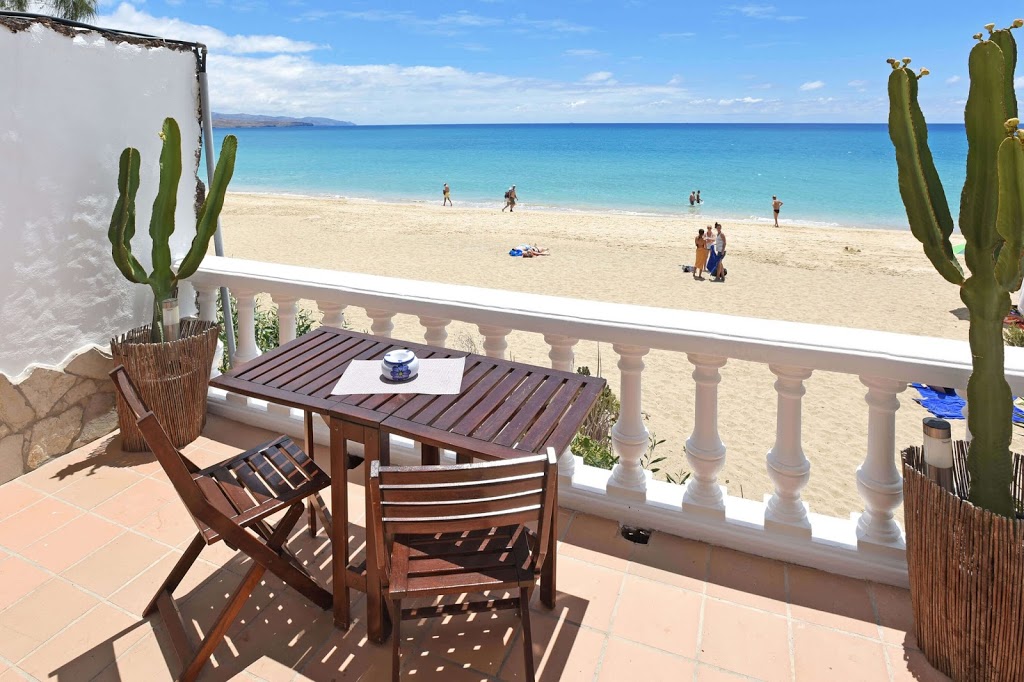 ¡La playa de Costa Colma es un lugar paradisíaco! Se trata de dos kilómetros de hermosa arena dorada, tranquilas aguas turquesas y hermosas vistas de las suaves colinas de Costa Calma. Si quieres un pedazo de playa solo para ti, continúa por la carretera que conduce hacia el sur de la península de Jandía y encontrarás muchas más playas impresionantes. Si amas los deportes acuáticos, puedes ir directamente a Morro Jable, que se encuentra al final de la península. Es el lugar perfecto para practicar windsurf. Después de un día en la playa, puedes dar un paseo en el hermoso parque de Costa Calma – lleno de frondosas palmeras. No se derrocha ni una gota de agua para mantener este verde oasis en medio del árido paisaje de Fuerteventura. El agua que se usa para regar las plantas es agua residual tratada en las plantas de purificación de la zona.
Der Strand von Costa Colma ist ein himmlischer Ort! Es sind zwei Kilometer voller wunderschönem goldenen Sand, ruhigem türkisfarbenen Wasser und herrlichen Ausblicken auf die sanften Hügel der Umgebung. Sie wollen ein Stück Strand nur für sich allein? Dann fahren Sie einfach weiter Richtung Süden und schnell werden Sie an weiteren wunderschönen Stränden vorbeikommen. Wenn Sie ein begeisterter Wassersportler sind, dann fahren Sie einfach bis nach Morro Jable am Ende der Halbinsel. Hier gibt es die perfekten Bedingungen für Windsurfer. Wenn Sie mal eine Pause vom Sonnenbaden machen möchten, dann gönnen Sie sich am Besten einen erfrischenden Spaziergang im wunderschönen Park von Costa Calma – ein kleines Palmenparadies. Es wird aber kein Tropfen Wasser verschwendet um diese grüne Oase inmitten der kargen Landschaft des Südens von Fuerteventura zu erhalten. Das Wasser ist gereinigtes Wasser aus den Kläranlagen von Costa Calma.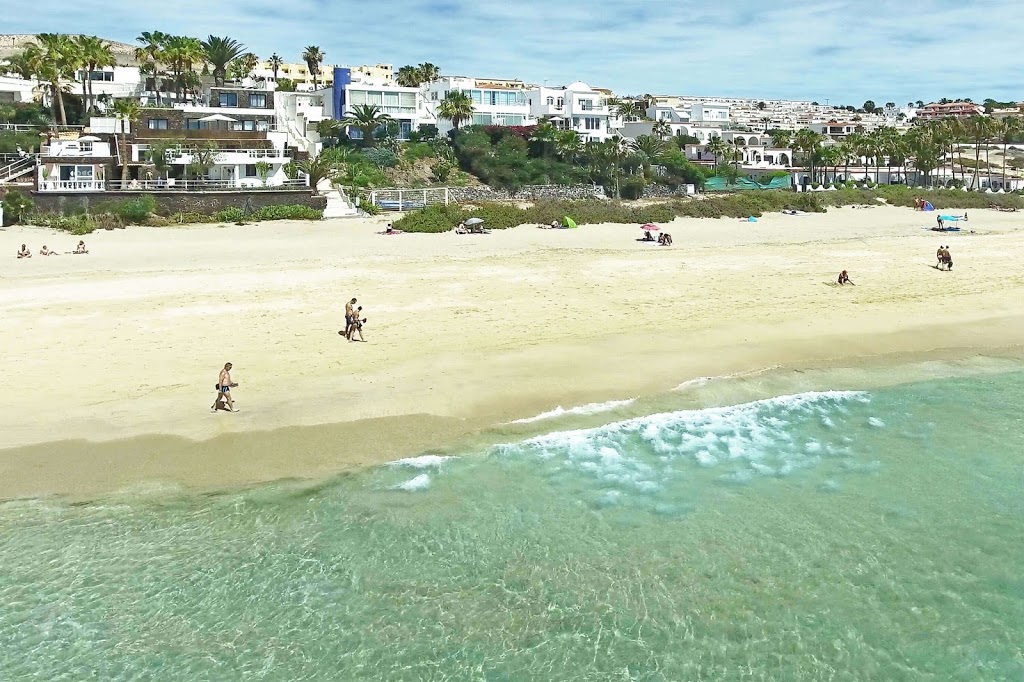 MORE THINGS TO SEE & DO NEAR COSTA CALMA: THE OASIS PARK, LA LAJITA AND COFETE
And what is there to see and do in the surroundings of Costa Calma? The Oasis Park, located in the near town of La Lajita, is perfect for families. With its 800.000 m2 it is the largest zoo and botanical garden of the Canary Islands. Here you can find flamingos, guepards, elephants and many more animal species. You can even take a camel safari! The flora in the park has also much to offer. There can be found flora from all over the world, organized in thematic areas. The cactus garden is specially stunning: 3.000 different cactus species can be found here. You can also take a quick walk through the little fishermen town of La Lajita – it is a typical Canarian village with some restaurants and pizzerias, a small church and a black stone beach with the charming traditional red fishing boats. If you are in for a real treat and a hint of adventure you should explore the rest of the peninsula de Jandía. Leave the highway and take the dirt road until you reach the beach of Cofete. Here you can enjoy pure nature at its best and beautiful sunsets.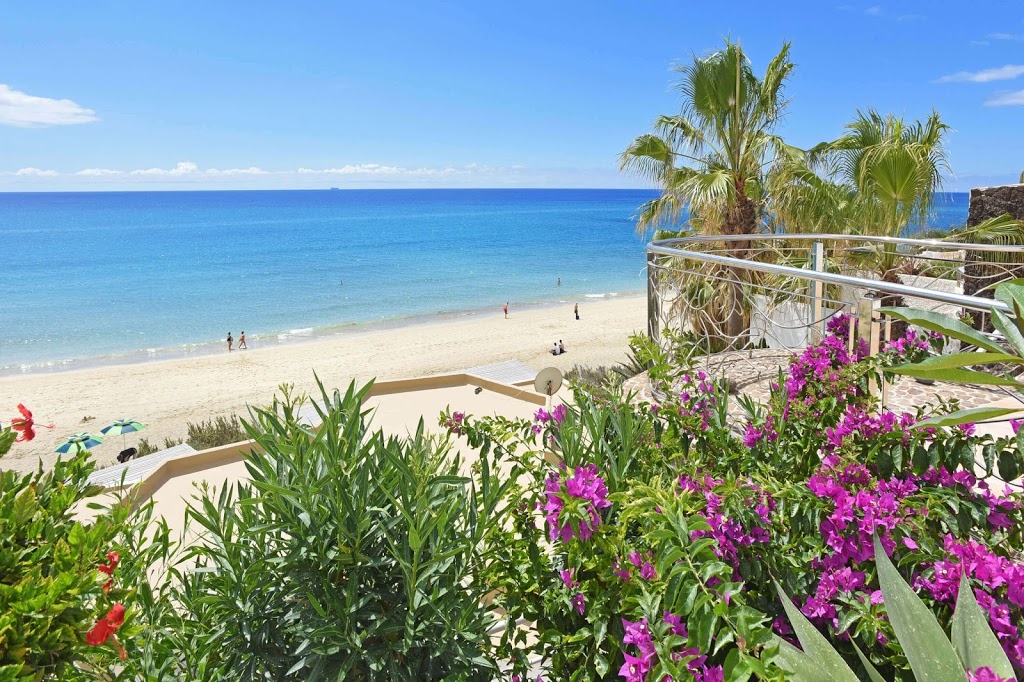 ¿Y qué hay que ver y hacer en los alrededores de Costa Calma? El Oasis Park es perfecto para una excursión con toda la familia. Con sus 800.000 m2 es el jardín zoológico y botánico más grande de Canarias. Aquí puedes encontrar flamencos, guepardos, elefantes y muchas más especies animales. ¡Incluso puedes participar en un safari de camellos! El corazón del parque zoológico es su gran zona de jardín, organizada en zonas temáticas y que acoge especies vegetales de cada continente. El jardín de cactus es especialmente impresionante: aquí puedes encontrar 3.000 especies de cactus diferentes. También puedes dar un paseo por el pequeño pueblo de pescadores de La Lajita. Es un típico pueblo canario con algunos restaurantes y pizzerías, una iglesia y una playa de rocas negras llena de bonitos barcos de pesca de color rojo. Y si quieres disfrutar de la naturaleza en estado virgen y te apetece una pizca de aventura, entonces debes explorar el resto de la península de Jandía. Continúa hasta el final de la autopista y sigue el camino de tierra hasta llegar a la playa de Cofete. Aquí podrás disfrutar de la naturaleza en estado puro y de hermosas puestas de sol.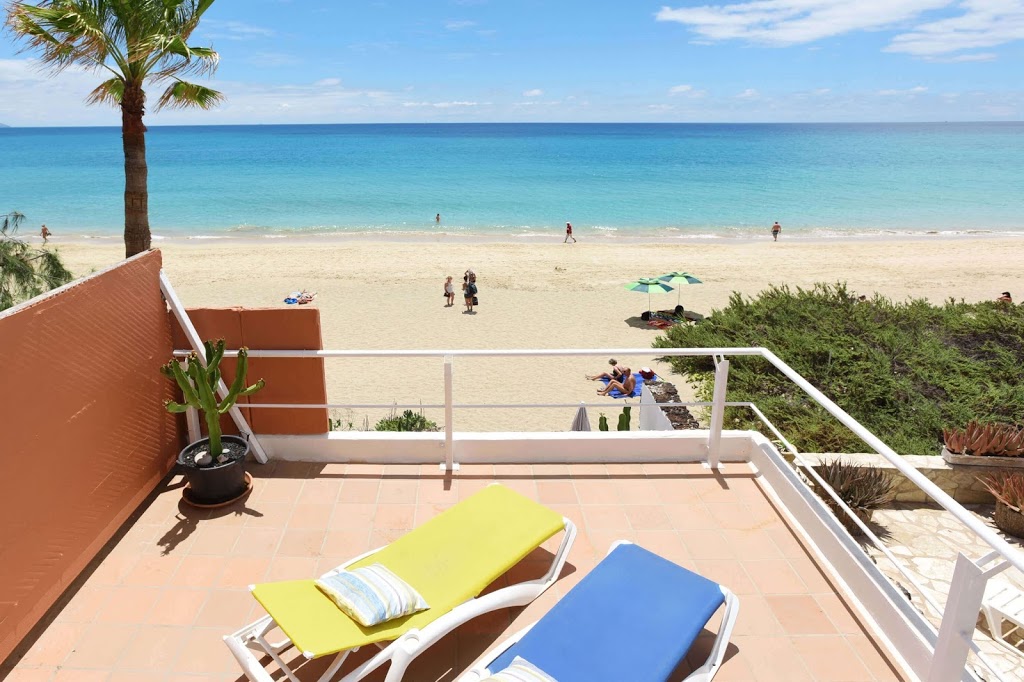 Und was gibt es sonst zu sehen und zu tun in der Umgebung von Costa Calma? Der Oasis Park befindet sich in La Lajita und ist einer der größten Zoos und botanischen Gärten der Kanaren. Er erstreckt sich über 800.000 m2 und bietet das perfekte Ausflugsziel für die ganze Familie. Hier finden Sie Flamingos, Gueparden, Elefanten und viele weitere Tierarten. Sie können sogar an einer Kamelsafari teilnehmen! Die Flora im Park hat auch viel zu bieten. Pflanzenarten aus der ganzen Welt sind hier versammelt und werden in verschiedenen Bereichen thematisch angeordnet. Der Kaktusgarten ist besonders atemberaubend: hier finden Sie 3.000 verschiedene Kaktusarten. Auch dem kleinen Fischerdorf La Lajita können Sie einen Besuch abstatten. Wenn Sie auf der Suche nach unberührter Natur und einem Hauch von Abenteuer sind, dann sollten Sie den Rest der Halbinsel von Jandía erkunden. Verlassen Sie die Autobahn und folgen Sie der Erdpiste bis zum Strand von Cofete. Hier können Sie Natur pur genießen und sich von wunderschönen Sonnenuntergängen beeindrucken lassen.
Check out our Youtube video about Costa Calma to see some great drone perspectives!
¡Descubre hermosas vistas de Costa Calma tomadas con dron en nuestro nuevo vídeo en Youtube!
Entdecken Sie wunderschöne Perspektiven von Costa Calma in unserem neuen Drohnenvideo auf Youtube!