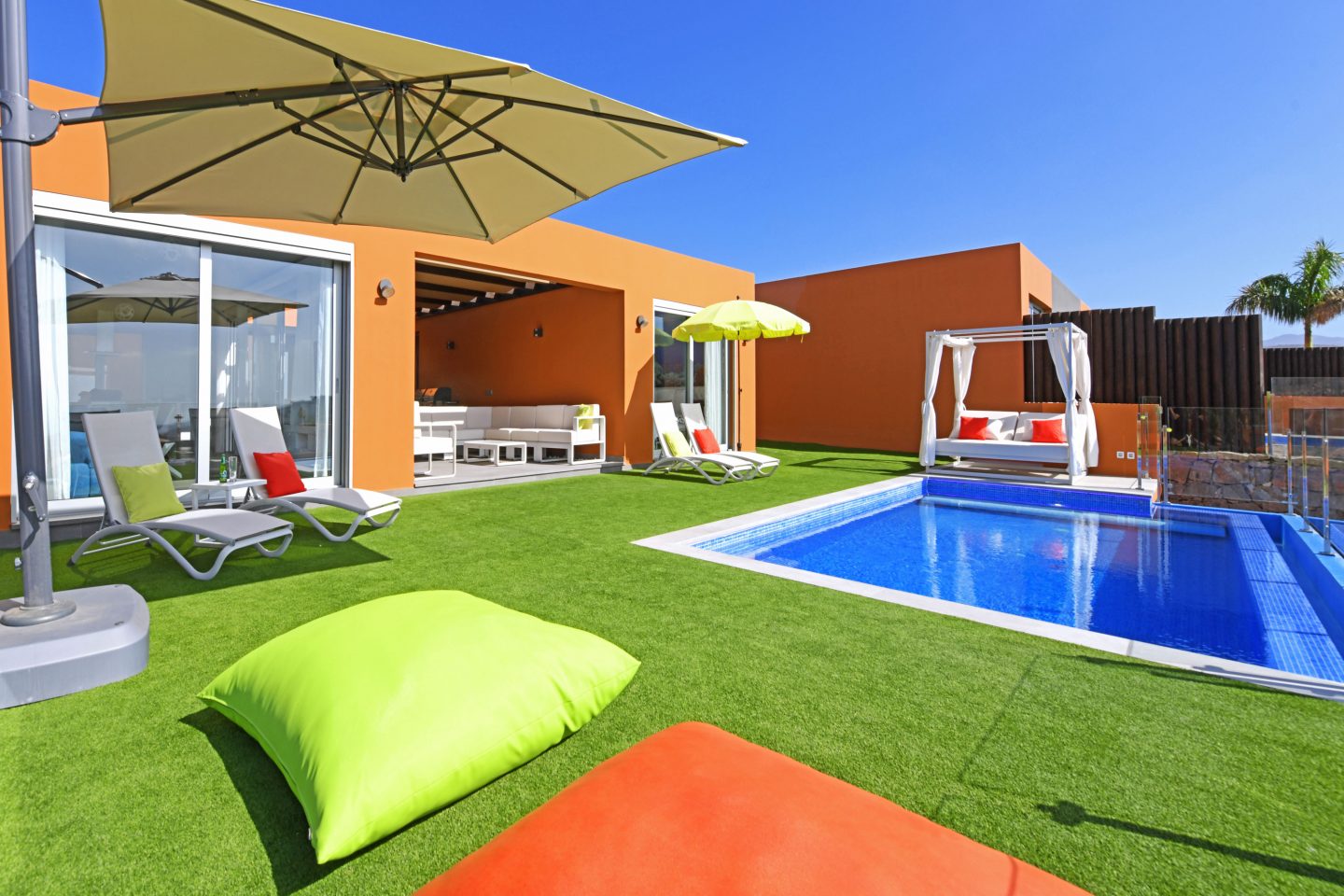 To end this summer right, we have added some new holiday homes to our offer. We have added some new holiday homes in the brand new complex La Isla in the Salobre Golf Resort to our offer, so that you have plenty to discover for your next holidays on the Canary Islands. Have a look!
Um diesen Sommer richtig ausklingen zu lassen, haben wir ein paar neue Ferienhäuser zu unserem Angebot hinzugefügt. Der brandneue Komplex La Isla im exklusiven Salobre Golf Resort bietet das perfekte Ambiente für einen sonnigen Urlaub im Süden von Gran Canaria!
Para terminar bien este verano, hemos añadido nuevas villas de vacaciones a nuestra oferta. Hemos añadido nuevas villas en el complejo La Isla, recién abierto al público, en el exclusivo Salobre Golf Resort en Gran Canaria. ¡Échales un vistazo!
1. Villas La Isla on Gran Canaria
We have added two holiday villas to our offer, that are brand new. Villas La Isla is a newly opened holiday villas complex on the Salobre Golf Resort, in the south of Gran Canaria. The Salobre Golf Resort is perfect for relaxing holidays beneath a private golf course with beautiful views to the Atlantic Ocean and the mountains. The villas are fully equipped and offer a large private pool to take a dive in. The interiors of the villas are splendid with all the luxuries, that you would need for a perfect holiday!
Wir haben zwei komplett neue Ferienhäuser in unser Angebot mit aufgenommen. Villas Las Isla ist ein neu eröffneter Komplex, der sich im Süden von Gran Canaria befindet. Das Salobre Golf Resort ist perfekt um einen entspannten Urlaub an einem Privat- Golfplatz zu verbringen, mit wunderschönem Blick auf den Atlantik und die Berge. Die Villen sind hochwertig eingerichtet und verfügen über einen großen Außenbereich mit Privatpool. Die moderne Innenbereiche der Villen laden zum Entspannen ein und sind mit allen Details ausgestattet, die man für einen perfekten Urlaub braucht!
Hemos añadido dos villas de vacaciones a nuestra oferta, que son totalmente nuevas. Villas La Isla es un complejo recientemente abierto en el Salobre Golf Resort, situado en el sur de Gran Canaria. El Salobre Golf Resort es perfecto para unas vacaciones relajadas alrededor de un campo de golf privado con vistas al Oceáno Atlántico y las montañas. Las villas están totalmente equipadas y ofrecen una amplia zona exterior con piscina privada para nadar. Los interiores de las villas están lujosamento equipadas, con todo lo necesario para unas vacaciones maravillosas.
2. Activities to do on Gran Canaria
Many fun and exciting activities can be done on Gran Canaria, although you might just want to relax at the pool side of your holiday house in the Golf Resort. After the restrictions of the corona pandemic on the Canary Islands in spring, you can go to all the beaches in the south of Gran Canaria again. But don't forget to take a mask with you. It is mandatory to wear a mask in all public spaces. Of course, this rules don't apply if you want to take a refreshing swim in the ocean. You can also go shopping in the Triana area of Las Palmas. Here you can find high quality boutiques and shops, that will offer you the perfect shopping experience. Also, don't forget to take a mask with you on this trip too!
Es können viele spannende Aktivitäten auf Gran Canaria unternommen werden, obwohl Sie natürlich auch einfach nur am Poolbereich ihres Ferienhauses im Golfresort entspannen können. Nach den Einschränkungen der Corona-Pandemie im Frühjahr auf den Kanaren, kann man wieder an allen Stränden im Süden von Gran Canaria baden gehen. Aber vergessen Sie nicht eine Maske mitzunehmen. Es ist Pflicht in allen öffentlichen Bereichen Maske zu tragen. Natürlich gilt diese Regelung nicht, wenn Sie ein erfrischendes Bad im Meer nehmen wollen. Sie können aber auch eine Einkaufstour durch den Triana Stadteil von Las Palmas machen. Hier gibt es hochwertige Boutiquen und Geschäfte, die nur so zum Einkaufen einladen. Vergessen Sie auch hier nicht eine Maske mitzunehmen!
Puede hacer muchas actividades interesantes en Gran Canaria, aunque a lo mejor solamente quiere descansar al lado de la piscina de su casa de vacaciones en el Golf Resort. Después de las medidas restrictivas por la pandemia del Covid en primavera, ya se puede visitar todas las playas en el sur de Gran Canaria otra vez. Pero no se olvide de llevar la mascarilla. Es obligatorio de ponerse la mascarilla en todas las zonas públicas. Al tomarse un baño refrescante en el mar, esta norma por supuesto no se tiene que cumplir. También puede hacer compras en la zona de Triana en Las Palmas. Aquí hay muchas tiendas de alta calidad, que le invitan para comprar algún detalle. Tampoco se olvide de la mascarila en este caso.